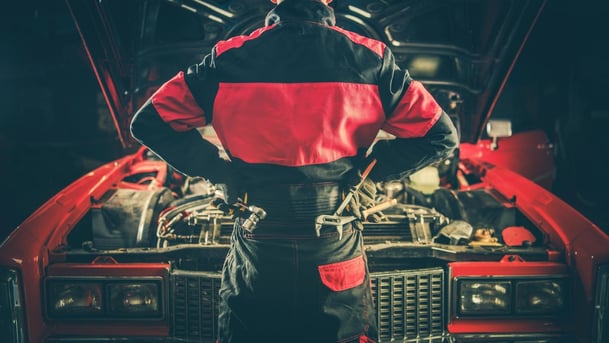 I once heard an aircraft mechanic say that if people maintained their cars the way airplanes are kept, cars would never break down. Is that right? Learn how to extend years to your car by giving the proper maintenance.
1.

Refer to the Owner's Manual
A big mistake that many car owners make when purchasing a car is skipping the pages of the owner's manual. It is a big book to read, but it is very useful and will help you understand the dashboard of your car. Scroll through the pages and get familiar with knowing where to find key information about your vehicle the day you bring your car home. The owner's manual is basically your car bible.
2. K

eep Motor Oil Maintenance
Caring for your car's motor oil is vital to extend the life of your auto engine. While many car models signal when the oil is low and warn when it's time to change it, mechanics still advise changing the fluid if your car remains parked for a long period of time. Oil needs to be replaced either by usage or age as it breaks over time, In the case of buying a pre-owned vehicle, ensure the gauge is set properly to indicate when it's time for an oil change.
If you drive an older model that doesn't warn when it's time, check the fluid of your engine every month. While a rule of thumb is to change the oil every 3,000 miles, your best guide is the owner's manual.
3.

Keep Proper Tire Pressure
Many ignore this important component when caring for their car. Why is tire pressure so important? The potential of sudden and dangerous tire failure increases when driving on tires that aren't inflated properly. Driving with underinflated tires causes more friction between the tire and road surface, thus increasing wear on the tire. This in the end causes fuel consumption to go up. When tire pressure is too low, this can also affect the suspension and steering of your car and even affect the performance of the brakes. That is no different if the tires are overinflated. To get the best performance, always have the proper tire pressure.
To learn which pressure is correct for your car, refer to the owner's manual, or check the vehicle information sticker on the driver's side door jam. The pressure fluctuates when there is a change in temperature. Pay attention to the sensor on your dashboard.
4.

Take Care of the Brakes
Caring for the brakes of your car is caring for your life, your loved ones, and everyone on the road. Brakes are essential for safe driving. Fortunately, when brake pads are worn, they make a loud squeaky noise that serves as a warning. Pay attention to this sound. Have your brakes tested and checked by a mechanic immediately.
Also, pay attention to signs your car may be giving, like slow response times when hitting the brakes, metallic grinding, and a steering wheel that tremors when hitting the brakes. Sometimes the brake pedal hits the floor when engaged. All these are signs your brakes need to be checked. If it doesn't feel right, have them checked.
The longevity of car brakes depends on several factors, but it's recommended to have them checked every 7,000-10,000 miles.
Caring for your vehicles and giving the proper maintenance will extend many years to your car. Also, if you are in need to replace your vehicle, you are in good hands at Shabana Motors.
Shabana Motors, Pre-Owned Auto Dealership
Maintaining your car properly is the responsibility of every car owner. But driving a reliable vehicle is the obligation of the auto dealer. At Shabana Motors - Houston's best used-car dealership – it is our goal to have you drive out our lot with an optimal vehicle. Every car goes through a vigorous check and gets a fresh oil change before each sale. With our 2-year/ 24,000-mile warranty, we assure you will find a reliable vehicle.
If you are searching for a dependable used car but have issues with your credit, that is no problem. With our buy-here, pay-here financing model, we provide in-house financing options to fit every need. Having bad credit or no credit should not stop you from getting your Life on Drive.
Visit us or call us today at 281-994-7105 and book an appointment to test drive the dependable car you like. We will let you know if you are credit-approved in 15 minutes or less.