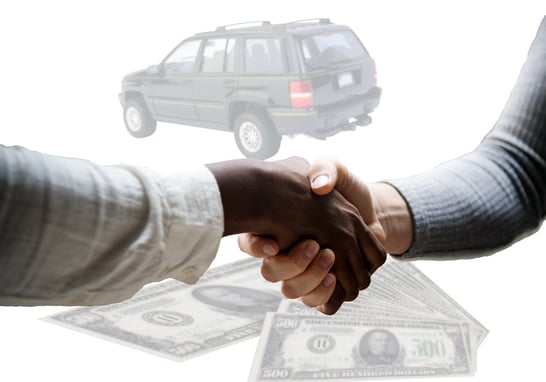 If you are ready to buy a used car, you've probably seen plenty of vehicles from a used car dealer or private seller. But what is the best option? What are the benefits of buying a used car from a dealer vs a private seller, or vice versa?
To help you with this decision, we outlined some pros and cons of buying a used vehicle from a used car dealer vs a private seller.
Pros and Cons of Buying a Car from a Used Car Dealership
1. Pro – Large Inventory of Used Cars
It's easy to see that you get a lot more choices when you visit a dealer due to the large inventory available. That makes buying a used car from a dealer a one-stop-shop experience, which makes everything more convenient, and less exhausting. You can test-drive several vehicles and compare your options before making your final decision. A dealer gives you the opportunity for a more informed choice.
2. Pro – In-house Financing
Many auto dealers offer a buy here, pay here program to suit your needs. They can either manage financing through their organization, or through partnered lenders, banks, and credit unions. That means that you can drive away with your new car having just put down a deposit or other first payment and spread the rest of the cost over a period of years. For those who can afford the monthly payment but don't have large cash sums, this arrangement is ideal. It may work to your advantage to get pre-approved before visiting the dealership.
3. Pro – Extended Warranty
An extended warranty is critically important when purchasing a used car as there is a greater risk of mechanical issues compared to a brand-new car. An extended warranty provides you with peace of mind and a cost-effective way to make sure your vehicle is protected at all times. Reputable dealers will even offer a 2-year, 24,000-mile extended warranty, which is not too far behind the warranty a new-car manufacturer may offer. If you want to see the warranty new cars are offering, US News details the best warranty automakers are offering for new cars in 2022. This provides a good form of comparison between the manufacturers.
4. Pro – Customer Service Support
Another great aspect of buying from a dealer is the after-sales support that comes with it. Dealers ensure strong support with a direct customer service phone line after each sale is completed.
Now, let's point out the cons of buying a car from a dealer.
1. Con - Less Room for Negotiation
Dealers are businesses, and they run according to business principles. They need to keep the business afloat, maintain their team employed, and do their best to serve the rest of the community. For the buyer, that can mean there is less room for negotiation on price. Many dealers offer a hassle-free price on their vehicles, meaning they offer their "best price" upfront. If you like to haggle, that can feel less satisfying as they will not bargain on the price.
2. Con – Fraudulent Used Car Dealers
There are hundreds of dealerships out there who want to make you, their customer. Most are probably genuine and look for ways to help y'all in the process. But some may try to swindle you out of hundreds of dollars by selling you an unreliable car or even one that you cannot afford. At Shabana Motors we know how valuable money is to everyone. Our goal is to help you protect it and move your life forward.
Pros and Cons of Buying a Used Car from a Private Seller
1. Pro - More Room for Negotiation
There's no doubt that when buying from a private seller, you can negotiate harder, especially if you learn that the car has been on sale for a long time and/or the price has already been reduced. Private sellers know they'll make a loss on just about any car they sell, so the price is less of a material requirement.
Most private sellers want to sell their vehicles as quickly as possible. It could be that they're looking to buy a new one and need the money, or even just that the old car is taking up valuable space on the driveway or in the garage. This once again puts the buyer at an advantage.
2. Pro - Simpler Transaction
In many cases, all that it takes for a car to change hands is a signature on the title and money being exchanged. In most states, it's very simple with only a few easy procedures to handle at the DMV. If you use a dealership and need financing and whatnot, it can get more complicated.
Below are the cons of buying a car from a private seller.
1. Con – One-Car Option
The most obvious problem is that a private seller invariably only has one car to sell you. If they have two dozen, then they're more likely an illegal car trader and you want to steer clear anyway. This means to see multiple cars means you must visit multiple sellers in multiple locations. That's a lot of gas and time wasted going about to see new cars.
2. Con – Lack of Extended Warranty
Private sellers may say "call me if there's any trouble," but what can they do? Most likely they sell you the car "as is", and any mechanical issues that may come up are on you to fix. If you bought the car and transferred it into your name, it's hard to go back to the seller and get the help you need.
Dealerships inspect incoming inventory rigorously for issues, whereas you can only get that from a private seller if they consent to an independent check, which they may not. Private sellers can hide issues with their cars more easily than dealers who are more bound by regulation and standards.
3. Con – Cash Transaction
Private sellers are very unlikely to be auto loan lenders. When buying from a private seller, you need to have the cash available and pay the total cost of the vehicle before you drive home with it. If you don't have the full amount in cash, buying from a private seller is not favorable.
Verdict: Start with the Dealer
At Shabana Motors, we do everything we can to make every car sale a positive and empowering experience for our customers. Our goal is to get you moving forward, which is why we do our best to ensure every one of the "Pros" above is part of your journey when buying a car from us. No other Houston used-car dealer offers you more to get your Life on Drive.
Learn more about great-value and high-quality used cars in the Houston area by getting in touch with us here at Shabana Motors.